7 Ways To Capture Your Spiritual Get Up And Go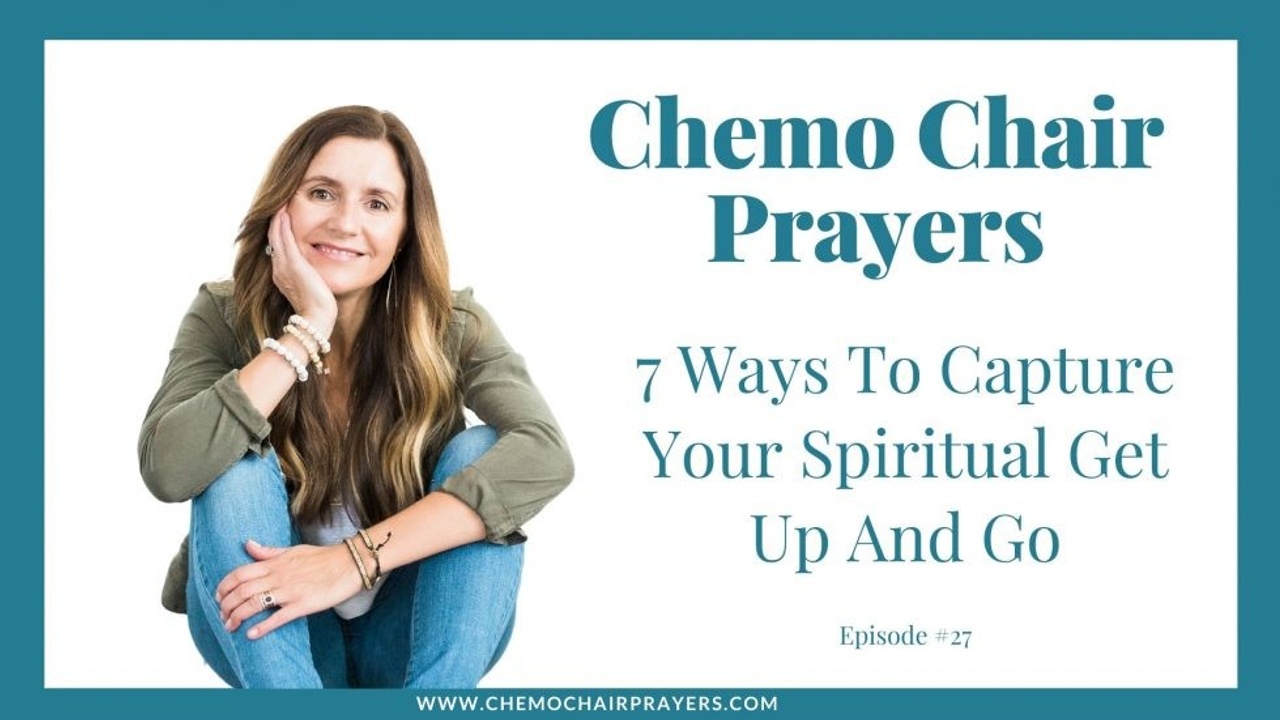 With the fear, uncertainty, and exhaustion of a cancer diagnosis, our spiritual energy can quickly dwindle.
We'd rather flop in front of the TV than get on our knees before God, devour a box of Oreo's than a book of the Bible, and it's easy to find ourselves procrastinating rather than praying.
If you feel like your spiritual get up and go has got up and gone, or you never had much to start with, this episode offers small bites of spiritual food to revive your soul, refresh your heart and put a spring back in your steps of faith.
They'll help you recapture your spiritual get up and go when your energy and motivation are at their lowest.
I've got a confession to make friend.
When I'm tired, stressed, anxious or overwhelmed, I haven't got the capacity to be spiritual.
I know, it sounds terrible to admit when I'm the host of a devotional podcast, but if you've been around here I while you know I'm all about keeping it real.
When I've had a few restless nights, or I'm worried about my latest scan results, or I've simply overloaded on chips, dips and those dark chocolate salted almonds from Trader Joe's and feel like a hippo on Advil pm…
It's terrible to say, but I seem to lose the will and the way to connect with God. It seems too much like hard work.
My mind swirls with worries, to-do lists, and what-ifs, and not only does God seem far away but in the back of my mind I assume He'd rather I came to Him in a better state – not so falling part and slob-like.
When I was deep in treatment it got worse. I'd swing from being a spiritual warrior happy to pray and trust God no matter what, to be a spiritually wimpy sloth too exhausted and faithless to admit.
When we find ourselves here it's easy to wonder where our spiritual get up and go has got up and gone?
Take a moment to honestly ask yourself whether your cancer, tiredness, worry and stress has turned you into a spiritual sloth?
If it has, you're going to find this episode right up your alley.
If not, don't rush away too soon. Because in all my years I've never met someone who hasn't, at some point, felt spiritually drained, like they were once found but now they're lost. So I hate to say it, but you're no immune to spiritual sloth-ness!
When a good night's sleep doesn't fix the worry and the weariness it's easy to slowly drift away from God, turning away in apathy and coping alone, when turning to Him is exactly what we need.
I call it My Downward Spiral of Spiritual Apathy and being a pastor's wife certainly doesn't mean I'm immune.
If we're ever going to find His strength, peace and comfort our souls crave we must break out of the cycle, but it's not easy when we can't be bothered to get off our bums and open the fridge door, let alone knock on His door and feed on the Bread of Life
Like I said, when I was in treatment for cancer and constantly tired, unmotivated, and spiraling away from God faster than a kid on a helter-skelter, I found the key to breaking my spiritual apathy was to take small bites of tasty spiritual food; foods that were close at hand and easy to digest.
Tasting God's spiritual food revives our soul, refreshes our hearts and puts a spring back in our steps of faith.
It can be hard to think of ways of connecting with God that aren't overwhelming when we're exhausted, so I've listed some spiritual offerings for you to nibble on.
These are some of the spiritual appetizers that helped me recapture my spiritual get up and go when my energy and motivation were at their lowest.
I want to invite you to try some of them, however you're feeling today.
List five things you are grateful for.
Research shows practicing gratitude increases our wellbeing so look around and list five things you're grateful for – whether it's your friends, the weather, Peanut M&Ms, or God's presence take a moment to thank Him.
Write a letter telling God how you're feeling.
Whether you're tired, angry, worried, resentful, hopeful or not even sure He's listening, take a moment to tell Him, asking Him for what you need and listening to what He might be saying to you.
Put on some worship music and be still for a moment.
Whatever your taste in music, there's some worship music for you. Just sit with no agenda. Take a moment to become aware of God's presence, not rushing away. If you're like me and find it easier to be still mentally when your body is moving, go for a walk, vacuum your house, whatever you need to do to still your mind and connect with God.
Get out into His creation.
The world around us reveals His vastness and glory. Check out the night sky, trees in the park or birds on your roof. The guy that made all this, as well as those weird little luminous creatures at the bottom of the ocean, made you too and didn't make a mistake. Breathe it in – both the fresh air and how loved you are. Now's a great time to tell God how you're feeling and what you're grateful for.
Meditate on God's promises.
God has promised to never leave you (Deut. 31:8), give you peace (Phil 4:6) and His strength (Is 41:10), fight for you (Ex 14:14), comfort you (Is 49:13) and provide for you (Phil 4:19, 2 Cor. 9:8) amongst other things. Which ones do you need most today? Can you let them sink into your heart as well as your mind?
Look at art that depicts God's character.
Charlie Mackesy's Prodigal Son and Rembrant's Prodigal Son both depict the unconditional love of God in very different ways. What do these pictures say to you? Do you believe God loves you unconditionally?
Phone a Friend.
For many of us this is the hardest and most unnatural of all these suggestions but when we're at our lowest it's easy to forget we're made for community by a God who is, by his very nature, community. God is three in one; Father, Son and Holy Spirit, and, made in His image, we need people who will help us out practically with meals and running the kids to activities, friends who'll sit and listen and who are able to simply journey with us in our pain and we need people who'll stand with us and pray.
So there we have it. 7 Ways to Recapture Your Spiritual Get Up and Go.
It's not an exhaustive list by any means but one things we can be sure of is that as we step step towards him, in His grace, God meets us right where we are. We can always come to His table just as we are.
He feeds our tired souls, bringing us alive spiritually and refreshes us physically. Bit by bit we break the downward spiral of apathy as our spiritual get up and go returns.
And isn't that what we want more than anything? To break out of survival mode and to feel untired, unworried, and unangry – and yes, I just made up those words but for me they sum up how we want to feel so well.
As we battle on through chemo treatments where they pump drugs that would strip paint into our arms, endure surgery where we're sliced and diced to remove parts of us that have gone rotten, sit through radiation where we're zapped with invisible rays to reduce the size of our visible tumors, we need God more than ever.
Has your spiritual get up and go got up and gone? Which of these 7 activities are you going to try to get it back? What other activities have your found break the downward spiral in your life? Comment below to let us know.
Let's take a moment to pray using our simple guided prayer format that uses the acronym TRUST.
Thanking Him for who he is and what he's done. Resting in his love. Unburdening our hearts. Surrendering our hopes, fears and needs. Taking Him at his word.
If you haven't already, you can download your own copy of our TRUST prayer practice on a beautiful book mark below!
Or listen on Apple Podcasts.
If you haven't already, download your TRUST prayer book mark HERE so you can pray along with me and pray with more confidence and less doubt in the week ahead.
Did you enjoy Chemo Chair Prayers? Would you help others dealing with cancer find it by hitting subscribe and leaving a five star review HERE? Thank you.
Not sure how to leave a rating and review? No worries. Here are some step by step instructions – it's easy!